SKINMEDICA HA5 REJUVENATING HYDRATOR
Properly hydrated skin looks and feels younger, so it only makes sense that a sure-fire way to reduce lines and wrinkles is by plumping them full of moisture. The SkinMedica HA5 Rejuvenating Hydrator does it beautifully by blending 5 types of hydrators that immediately go to work replenishing your skin's hyaluronic acid. This fragrance-free hydrator boosts the overall health of your skin and provides a staggering 8 hours of continuous moisture.

The humectants draw moisture from the air and deliver it straight to that areas of your skin that need it the most. It's so potent that it almost immediately begins to smooth the appearance of furrows. Ideal for all skin types, this serum balances moisture levels to smooth and soften rough texture, lines and wrinkles.
Key Ingredients:
Hyaluronic Acid: provides immediate and lasting hydration
Peptide Complex: rejuvenates skin and reduces the appearance of lines and wrinkles
Vitamin E: protects skin from damaging free radicals and signs of premature aging
---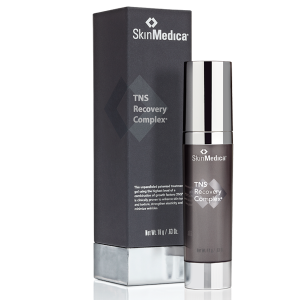 SKINMEDICA RECOVERY COMPLEX
Fine lines and wrinkles begin to appear as the collagen and elastin in the skin break down. SkinMedica TNS Recovery Complex helps rebuild these two essential components to reduce the look of signs of aging. The blend of growth factors, peptides and antioxidants repair damaged cells while antioxidants also defend against free radicals which cause the breakdown of collagen and elastin. Dry, oily, normal or combination skin types can use this anti-aging product to restore a glowing complexion.
TNS contains peptides and growth factors that repair damage

Antioxidants neutralize free radicals to prevent damage

Anti-aging ingredients smooth fine lines and tighten skin
---
IS CLINICAL ACTIVE SERUM
IS Clinical Active Serum's formula decreases the appearance of fine lines and wrinkles, evens skin tone, and is excellent for acne-prone skin. Touted by physicians as "remarkable" and "phenomenal," ACTIVE SERUM™ usually produces results within a couple of days. Potent activity will be noted upon application as evidenced by a cool tingling sensation. Excellent for all skin types and for all ages, this powerful botanical serum leaves the skin moist and smooth.
• Reduces the appearance of fine lines and wrinkles
• Diminishes the appearance of hyperpigmentation and acne
• Smoothes and softens
• Helps reduce pore size
---
IS CLINICAL YOUTH EYE COMPLEX
Youth Eye Complex utilizes "intelligent proteins" to combat the signs of aging. These proteins are clinically proven to target damaged sites and as a result, skin is stronger and better able to resist damage. Powerful peptides, key growth factors, and potent antioxidants rapidly reduce the look of wrinkles, puffiness, and dark under-eye circles to keep skin moist, smooth and protected all day long.
• Reduces the appearance of periorbital fine lines and wrinkles (including crow's feet)
• Enhances the appearance of firmness and elasticity
• Visibly diminishes dark under-eye circles
• Excellent for lip area
---